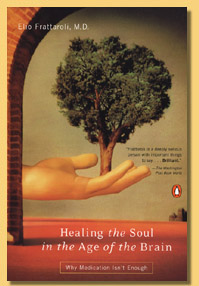 Healing The Soul in the Age of the Brain
Becoming Conscious in an Unconscious World

by Elio Frattaroli, M.D.

"Perhaps no one has released so creative, so audacious . . . a critique of contemporary society's love affair with psychiatric medication as that offered by Dr. Elio Frattaroli"
— Harvard Crimson

"(A) fascinating, ruthlessly honest and poignant journey . . . from the exploration of the philosophy of mind/brain, through the brilliant critique of the drug cowboys who want to merely keep us "level" and smiling, to the intense work of being with his patients in a truly mutual, whole, and making-whole therapy process—Dr. Frattaroli's fine book insists that we wake up and embrace the essence of that which is always with us, our souls."
— Samuel Shem, author of The House of God and Mount Misery

"If Freud experiences a revival, he may thank Frattaroli for it."
— Booklist

"This superb new book is a much-needed wake-up call. Frattaroli reminds us that there is a person behind the symptoms-a human spirit yearning to be known and understood."
— Glen O. Gabbard, M. D., author of The Psychology of the Sopranos

"[Frattaroli's] insights are fresh, highly readable, informative, passsionate and memorable."
— Publishers Weekly (starred review)

"A discursive, challenging, important meditation on the human process of helping others and ourselves . . . brings out what is best in the therapeutic procedure. A major achievement"
—Library Journal (starred review)


---

Prozac for PMS? Zoloft for acne? Antidepressants have become the cure-all drug of choice for illnesses both mental and physical. Why? Because we live in a world so consumed by a quick-fix mentality—a world that believes we can find health and happiness simply by taking a pill—that we have lost touch with the deepest part of ourselves: our souls. According to author Elio Frattaroli, our culture is in a state of moral crisis. "Healing the soul," says Frattaroli, "not medicating the brain—is the true purpose of psychiatry—because it is the only way we can actually become the full, rich people we have it in us to be."

HEALING THE SOUL IN THE AGE OF THE BRAIN: Why Medication Isn't Enough (Penguin/On-sale date: August 27, 2002/$15.00) by Elio Frattaroli, M.D., is an enormously important book that is a stimulating, rousing intellectual journey. It is also a book that has the power to change people's lives.

Frattaroli is a wonderful writer who possesses a rare talent for making complex scientific concepts understandable. He is a true Renaissance thinker, and his spirited and compassionate narrative is informed by physics, philosophy, literature, and psychology. But the heart of his message is in his riveting and indelible case histories – of his patients and of himself -- in which he illustrate the inestimable value of "listening to the soul."

An agent provocateur, Frattaroli challenges the dehumanizing belief -- promoted by the popular press and by psychiatry's so-called Medical Model -- that depression, anxiety and other forms of human suffering are chemical problems rather than emotional problems. He argues that our symptoms and painful emotions are not meaningless neurological glitches we should be trying to get rid of with a pill. Rather, they are important messages from the unconscious, warning us that something is out of balance in our lives that we need to pay attention to. Frattaroli shows us how to pay attention, how we can reach the deepest part of ourselves and why that still matters: because in doing so, we discover what it means to be fully human.

Ten years ago, Viking published Listening to Prozac, which went on to become a major bestseller and a touchstone for its time. Now Elio Frattaroli shows what has happened to a culture that has been listening to Prozac and hearing nothing else.

HEALING THE SOUL IN THE AGE OF THE BRAIN is a controversial book that will send ripples outward from the academy to the mainstream and to an intelligent reading community in the same way that books like Christopher Lasch's The Culture of Narcissism, Douglas Hofstader's Goedel, Escher, Bach, or more recently, Thomas Moore's Care of the Soul did.

ABOUT THE AUTHOR
Elio Frattaroli, M.D., is a psychiatrist and psychoanalyst in full time private practice. He is on the faculty of the Psychoanalytic Center of Philadelphia and is also an assistant clinical professor of psychiatry at the University of Pennsylvania. He studied Shakespeare at Harvard and trained with Bruno Bettelheim at the University of Chicago before turning to medicine. He has written and lectured on Shakespeare as well as on psychiatry and psychoanalysis. He lives and practices in Bala Cynwyd, Pennsylvania

HEALING THE SOUL IN THE AGE OF THE BRAIN
Why Medication Isn't Enough
Elio Frattaroli, M.D
Penguin/On-sale date: August 27, 2002
$15.00

Elio Frattaroli is available for press interviews.
Contact Zaidee B. Rose at 212/366-2225
e-mail: zrose@penguinputnam.com

Penguin Putnam Inc. is the U.S. affiliate of the internationally renowned Penguin Group. Penguin Putnam is one of the leading U.S. adult and children's trade book publishers, owning a wide range of imprints and trademarks including Berkley Books, Dutton, Frederick Warne, G.P. Putnam's Sons, Grosset & Dunlap, New American Library, Penguin, Philomel, Riverhead Books and Viking, among others. The Penguin Group is owned by Pearson plc, the international media group.